See beyond
In an increasingly volatile investment landscape, clients are looking for an advisory service that focuses beyond the surface, delivers beyond the expected, and helps see beyond the complex.
HSBC Prism Advisory is a contractual, portfolio-based advisory and investment service for Global Private Banking clients that combines expert guidance and data-driven insights.
Institutional-quality portfolio and risk analytics are provided by Aladdin Wealth™ technology, an industry-leading risk platform from BlackRock.1
With 3,000+ risk factors monitored daily, Aladdin Wealth™ technology drives portfolio transparency for advisors so they can deliver a more disciplined approach to investing for clients.
For a complete overview of HSBC Prism Advisory, contact your HSBC relationship manager or
What takes Prism beyond the expected?

Aladdin WealthTM Analytics
Holistic analysis, powered by industry-leading technology from BlackRock
With a multitude of ways to view and analyse portfolios, HSBC takes a deeper look into the details. Revealing where your exposures lie, exposing unintended risks and helping you make better decisions.

Portfolio Health Checks
Up to date and in the know
We have created alerts which are most pertinent to investors and will deliver them directly to you. We'll ensure you are provided with timely notifications, giving you more opportunity to consider your next steps.

Bespoke Asset Allocation
Options to optimise your portfolio
We first discuss your specific goals and objectives and help you set a benchmark based on your needs. Then, you can select from a defined list of indices to benchmark against and assess your portfolio across multiple scenarios and thousands of risk factors.

Prism Investment Advisor (PIA)
Advanced technology with a human touch
With robust knowledge of this powerful platform, your PIA2 is a highly trained specialist investment advisor. They will help you dissect the analytics, investment views and current market situation to make them relevant to your investment objectives.

CIO Model Portfolios (Prism)
Construct your custom portfolio
You will be provided with an investment portfolio that combines HSBC's CIO's Strategic Asset Allocation and our tactical and thematic views of the market. Working with your advisor, you can further customise the portfolio, to ensure that the final proposal is optimised, and reflects your personal views and objectives.

Contract & Fee Options
Your investment style, your choice
With clearly defined agreements on the minimum level of service, we maintain a high level of transparency so you will always know exactly what to expect and precisely how much it will cost. We will work with you to identify the plan that works best for you and your portfolio.
Open In New Window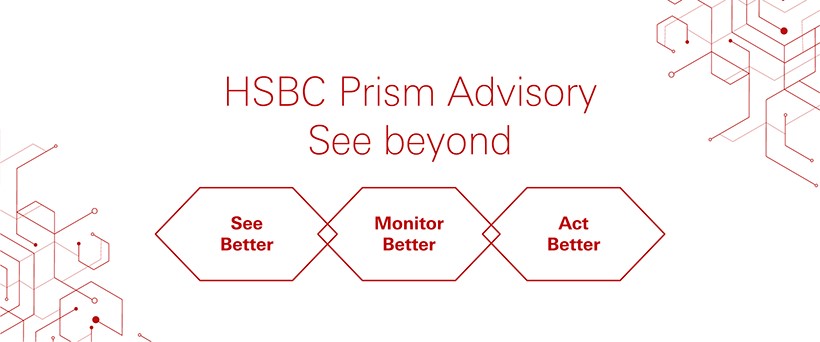 HSBC Prism Advisory helps you see better, monitor better and act better. With a more proactive approach to managing your portfolio. With more options that cater to your specific investment needs and appetites. With more timely information delivered in more accessible ways. With a more structured approach to planning and executing your investment strategy. Contact us to learn how HSBC Prism Advisory can help you see beyond.